"We are in desperate need for San Diego funds."
Debbie Stroman,
Breast Cancer Angels
, Director of Operations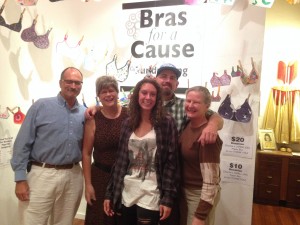 Breast Cancer Angels' Debbie Stroman, Director of Operations, and Family
Tish McAllise Sjoberg, Owner of Expressive Arts @ 32nd & Thorn; Diane Owens, Owner of Sonnie Owens Jewelry
& Michele Lyons, Expressive Arts Therapist
Musicians Ray Muniz and Russ Little
(From the Music Collective that meets at the studio every 2nd & 4th Tuesday, 7:0 – 9:00 p.m.)
Thanks Joan Kurland for your fun and heart-felt and fun songsjoankurland.com
MAKE A DONATION to Breast Cancer Angels by CLICKING HERE!
100% of all proceeds will go directly to the patients and  their families in need. All the money raised at our events will go to help families in San Diego!
Bras for a Cause – A Fundraising Show for Breast Cancer Angels
Window Calligraphy by Shea Sjoberg, SheaSjoberg.com

Art will be sold with proceeds going to
Breast Cancer Angels
who provide food, housing, medical co-pays, gas/transportation, pro-bono legal service, and more to stage 4 breast cancer patients during treatment. Did you know that many women (and men) who survive stage 4 breast cancer end up homeless or facing bankruptcy?
BREAST CANCER FUNDRAISER - HOUSE CONCERT with KM2
Thanks to KM2 for an intimate house concert here at the studio with  proceeds going to Breast Cancer Angels.
You can support KM2 go to/km2music.com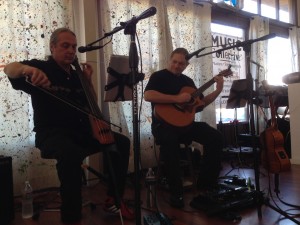 CLICK HERE TO DONATE TO BREAST CANCER ANGELS!
To learn more about Breast Cancer Angels, CLICK HERE.
Viewing of the Bras for a Cause show by appointment or during Open Studios
through December 7, 2014

Open Studios: (Check current print calendar in case of changes)
Mondays – Noon – 2:00 p.m.
Tuesdays, 5:00 – 6:30 p.m.
Wednesdays – 7:30 – 9:00 p.m.
Thank you EVERYONE that made this fundraiser possible!