•

•

•
Art Happy Hour is BACK!


Friday, June 16th
7:00 p.m. – 10:30 p.m., $30
Drop-in for all or a little. Leave with art you made!
ART HAPPY HOUR – Maybe the happiest place on earth is where you are CREATING your OWN amusement! Come for the ART. Come for the CONNECTION. Take art home to hang on YOUR wall. Create a memory of creating. Just hang out! Doodle, collage, paint, wander with art! We have prompts to get you started or do your own thing.
NO PREVIOUS ART EXPERIENCE NEEDED!
(***At this moment masks are optional for this event.
We may be masked to protect the more vulnerable in our community, so please be prepared for that, thank you!
We have noticed that when making art we forget we are wearing a mask!)
•••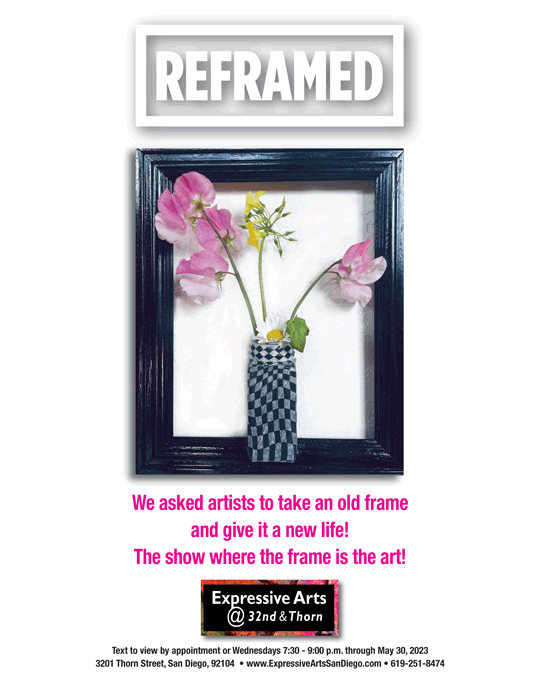 Text 619-251-8474 to view the ReFramed Show by appointment
or Wednesdays 7:30 – 9:00 p.m. through May 30, 2023.
3201 Thorn Street, San Diego, 92104 • www.ExpressiveArtsSanDiego.com • 619-251-8474
•••
•••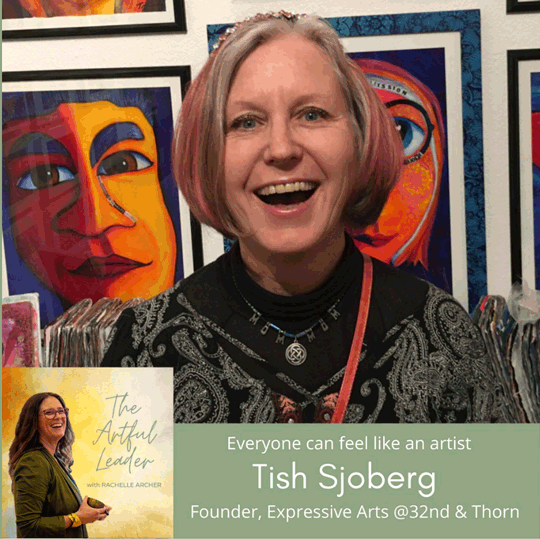 CLICK HERE TO LISTEN to Tish McAllise Sjoberg and
lots more inspiring talks with The Artful Leader and Rachelle Archer
•••
Join us from anywhere in the world!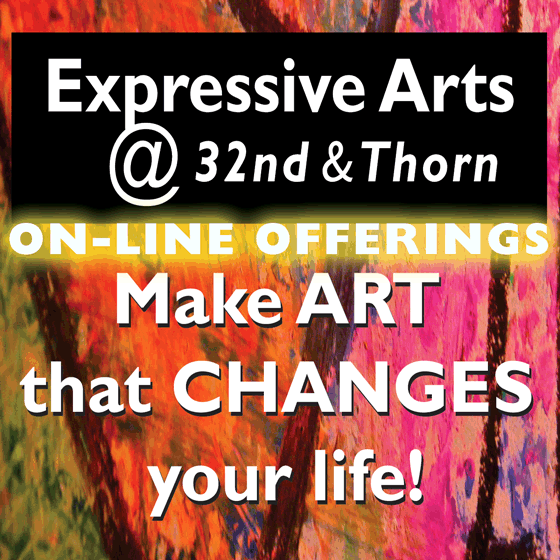 Click Here to Learn More and Sign Up!
Click here to view and print our on-line and in person schedule.
Paint to Music Live AND Scribble to Music On-line
Come let the music move your pen! HAVE FUN! RELEASE STRESS!
No previous art experience needed! Join us!
• • •
ART CLASSES?
We have something BETTER! A safe opportunity to express yourself and find your very own style of creating!
Sound scary? It is not! Just the opposite! Come and check us out to see if it is a good fit for you!
(Glad to refund your money if it is not a good fit for you 🙂 )
• • •
• • •
Another Union Tribune Article:
Click here to read the Union Tribune Article on Old People's Google!
• • •
EVERY Tuesday • 10:00 – 12:15 p.m. • $25
Art, the other pick-me-up!
• • •
Join us EVERY week for
These aren't just Art Classes, they are Expressive Arts Classes…the difference is in the PROCESS!
• • •
Need a GREAT gift?
Gift certificates for sessions, classes, workshops, passes.
30 Day Express Pass – $111
30-Day Open Studio Passes – $60
One Class Passes – $25
SHOP at the Studio!
Art Kits • 30 Day Passes • 1-Class Passes • Gift Certificates
30 DAY EXPRESS PASS Includes:
Paint to Music, Women's Expression Session, Art Happy Hour, Art Church, Open Studios,
and the Music Collective. $111 limited time offer.
• • •
What is Expressive Arts Therapy?
It is a creative therapy and has things in common with Art Therapy and, is very different.
•••
Check out my Scribble Art book – Great Gift!
An ORIGINAL gift for yourself or another!
Click here to learn more about the Scribble Art book!
•••