•

•

•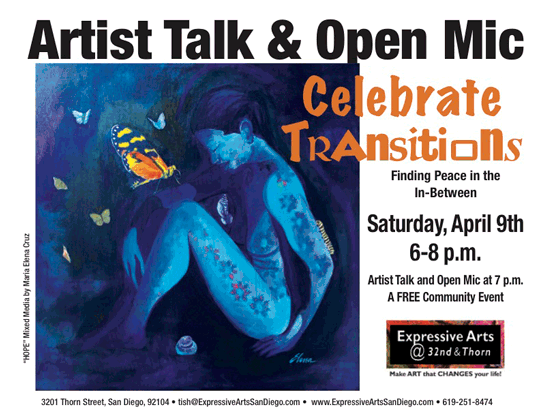 Expressive Arts @ 32nd & Thorn
3201 Thorn Street, San Diego, CA 92104
(We will be masked indoors)
ARTIST TALK & OPEN MIC
Celebrate Transitions
Saturday, April 9th, 6-8 p.m.
A FREE Community Event
Artist Talk and Open Mic will start at 7:00 P.m.
(We will mask to protect those in our community who are vulnerable.)
What ever stage of life we are in we are constantly transitioning into new phases. The space of transitions can be uncomfortable and even scary, we are no longer in our old comfortable life and not yet in the new world that is next. How can we learn to honor, trust and even celebrate these times in our life and see the next step as exciting as the last?
The Show's Participating Artists:
Andrea Rushing
Sue Niyazi McDevitt
Teemstir
Natalie J.D. Cuenca
Luz Maria Clayton
Tish McAllise Sjoberg
Michele Lyons
TC Golez
Cathy Sparks
Chris Rogers
Tabetha Healy
Scott Gengelbach
Janice Pennington
Katie Flores
Amanda Saint Claire
Stephanie J. Monis
Monika Broemmer
Nancy Lemke
Diane Slagle
Maria Elena Cruz
And More!
Finding Peace in that in-between place.
•••
Using the arts to support you through this strange time.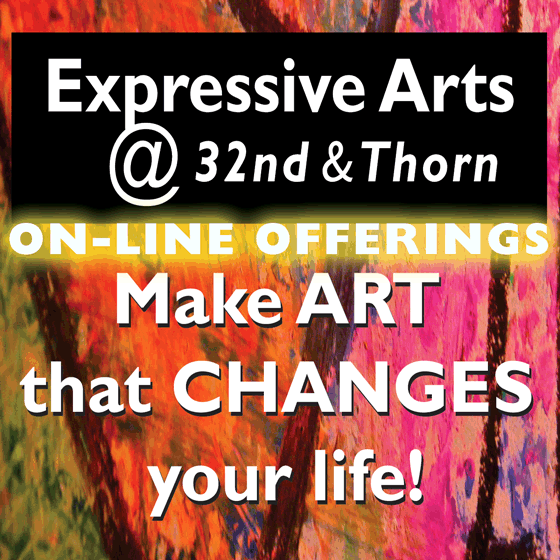 Click Here to Learn More!
Click here for a printable schedule.
•••
Check out my Scribble Art book – Great Gift!
An ORIGINAL gift for yourself or another!
Click here to learn more about the Scribble Art book!
•
•
•
Paint to Music Live AND Scribble to Music On-line
Come let the music move your pen! HAVE FUN! RELEASE STRESS!
No previous art experience needed! Join us!
• • •
ART CLASSES?
We have something BETTER! A safe opportunity to express yourself and find your very own style of creating!
Sound scary? It is not! Just the opposite! Come and check us out to see if it is a good fit for you!
(Glad to refund your money if it is not a good fit for you 🙂 )
• • •
• • •
Another Union Tribune Article:
Click here to read the Union Tribune Article on Old People's Google!
• • •
EVERY Tuesday • 10:00 – Noon • $25
Art, the other pick-me-up!
• • •
Join us EVERY week for
These aren't just Art Classes, they are Expressive Arts Classes…the difference is in the PROCESS!
• • •
Need a GREAT gift?
Gift certificates for sessions, classes, workshops, passes.
30 Day Express Pass – $111
30-Day Open Studio Passes – $60
One Class Passes – $25
SHOP at the Studio!
Art Kits • 30 Day Passes • 1-Class Passes • Gift Certificates
30 DAY EXPRESS PASS Includes:
Paint to Music, Women's Expression Session, Art Happy Hour, Art Church, Open Studios,
and the Music Collective. $111 limited time offer.
• • •
What is Expressive Arts Therapy?
It is a creative therapy and has things in common with Art Therapy and, is very different.